Great rant at Kosmograd
against Kirstie Allsopp and much more economic-aesthetic crappery. I recall her grinning chops advertising some sort of
Sink Your Life Savings And More In Bulgarian Property for Riches!
fest on Tube hoardings in the winter of 2007-2008, which must take some sort of award for televisual irresponsibility. Swinging from branch to branch, what do I find but
this
?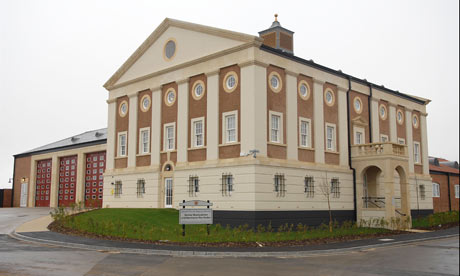 It appears that the heir to the throne has been playing with AutoCAD, and he made a fire station. I haven't yet decided which bits of this I find most horrible, but I think the fact that the actual fire station sticking out of the back looks like any other one in Britain is a candidate. The black guttering is pretty bad, and is that a CCTV camera on the corner of the building? I rather think it is.
You realise he's going to be king when Dave from PR is prime minister?